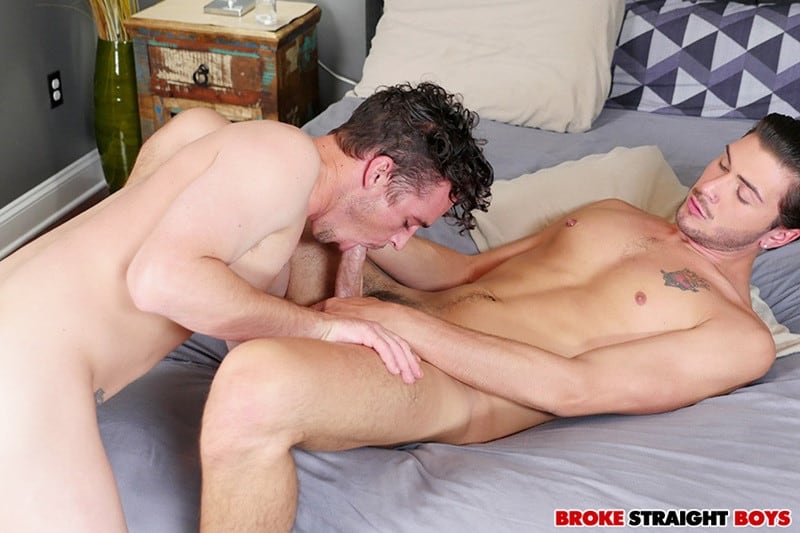 Broke Straight Boys says: Bobby Owens and Justin Dean have been in porn for about the same amount of time, and these experienced guys are ready to show you what all those years of cock sucking and ass fucking has taught them.
A few kisses while Bobby strips down, and Justin is all over that cock, taking it in his mouth and sucking it as Bobby moans above him, watching his prick disappear into Justin's wet mouth.
Justin gets his own prick sucked next as Bobby goes down on him, pulling his lips up and down that shaft until his own throbbing cock can't take it anymore and he seeks relief in Justin's sweet little ass.
Pushing into him, Bobby fucks Justin from behind, his bareback dick balls deep in Justin's ass as Justin closes his eyes and feels that cock deep inside him.
Flipping Justin over onto his back, Bobby spreads that ass again and fucks him some more, pumping harder and faster as Justin's own hand strokes his cock as he gets pounded raw.
Turning Justin around so he's on his knees, Bobby wraps a hand around Justin's neck as he fucks him, pressing their bodies together as Justin claims that ass, his balls slapping against Justin's taint.
Justin flips onto his back again, hand wrapped around his own cock as he strokes out a nice and then lets Bobby shoot his cum all over his face, getting a taste of it as he licks the remains off Bobby's pulsing cock.
[This post contains video, click to play]