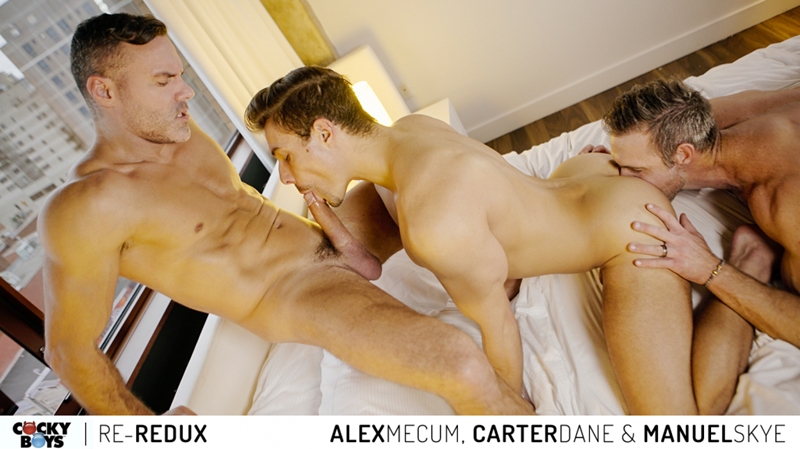 Manuel Skye joins real life husbands Alex Mecum and Carter Dane for a hot double dicking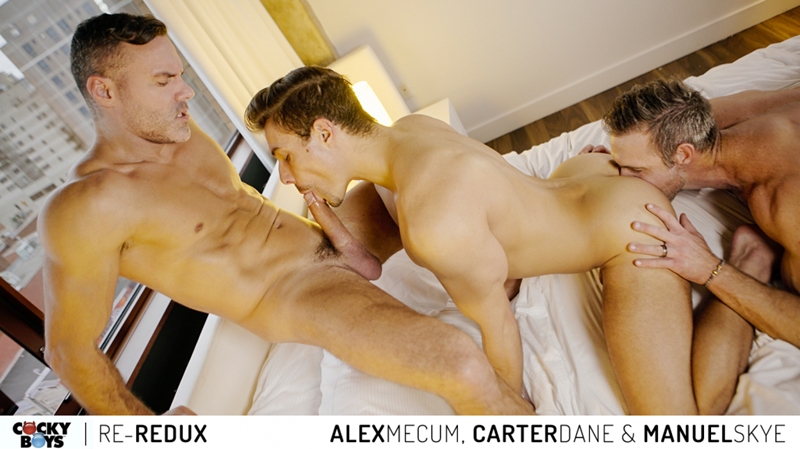 Cockyboys says: Real married couple Alex Mecum and Carter Dane open up their relationship to their first-ever threesome on camera with sexy older guy Manuel Skye. Lucky Carter gets the lion's share of the pleasure as he is penetrated by two big cocks.
The hot trio gets straight down to it, sucking each others' cocks, and exploring their muscular bodies. Manual moves into pole position, sucking down hard on both guys' dicks at the same time.
Carter gets excited by Manuel's boldness and he moves to sit on his face while blowing Alex. Carter then spins around so that he and Manual are 69'ing. Alex spots Carter's pert ass hole and moves in for the kill, together with Manual rimming his husband and getting him all lubed up.
Manual is first to poke his huge dick deep into Carter's hot hole. Alex joins him in spit roasting both Carters' holes. Alex gets his big cock sucked balls deep and then Alex and Manual swap places so that Alex is now fucking his hubby. Carter's body pulsates with the excitement of having two dicks.
Manual is first over the edge as he delivers a full powerful load spraying cum into Carter's mouth. Manual then fucks his cum back into Carter as his ass is also pummeled by Alex's thick dick. Carter with two dicks in his ass can then hold off no longer and he cums all over Alex's hairy six-pack. He's quickly followed by Alex whose orgasm is intensified by Manual sucking the cum out of him.
The hot trio falls into each others' arms in a moment of sheer ecstasy.