Hot gay 3-way fuck with Caden Carli, Alex Griffen, and Collin Simpson
Gay Hoopla says: A hot 3-way with Collin Simpson topping Caden Carli and Alex Griffen "and if they're lucky, they might get to top me."
Collin really shows off his Alpha status in this one. It's a 3-way, but make no mistake, this is all about Collin making himself the center of attention of the other two.
These guys were all really into each other, so there wasn't much instruction that had to happen. We just let the action happen.
Alex says that he's looking forward to bottoming for Collin "cuz I like muscle guys." The three guys hint that they maybe had some fun together the night before, and once the action starts, there's no holding back. Caden goes right for Collin's dick.
"I want YOU guys to pleasure ME," Collin tells them. He's taking control of the guys, telling them what to do and how he wants it done. Collin lays back and lets the two young men worship his body. He's really getting off on being the center of attention of these guys. Their mouths are all over every inch of his chest, dick and ass.
"Which one of you wants to get fucked first?" Collin asks. Caden says "ME."
Collin slowly slides his dick in Caden's hole and stretches it just a bit before slamming his dick deeper and deeper in. Caden takes a bit of time to get used to it, but once he does, he's enjoying the ride.
Collin gets Caden on his back so we have some really good camera angles of the fucking. Alex's dick stays rock hard the whole time from fucking Caden's mouth. He knows he's next.
Alex wants to get fucked "doggie" first. He gets down on all fours and Collin slides his dick in. "You're so tight," Collin tells him, "just relax." Once he's in, Collin ramps up the speed and really lets him have it.
Collin gets Alex to ride his dick while Caden sucks his dick. We see those amazing abs of his popping out while Alex rides him.
Alex and Caden them get down to suck the cum out of Collin. Collin blows a bit load… but it's not over yet.
Now it's time for Collin to get fucked. Caden goes first, fucking Collin on his back. Caden fucks him until he blows a load on Collin's abs and then it's Alex's turn. Even though Collin's been getting fucked, Alex's big dick pushes Collin to his limit. "You like that big dick in your ass, muscle boy?" Yeah… Alex is now having some fun taunting Collin… and Collin is loving it. Tell him,"you can cum all over my ass if you want to."
And he does.
This is the perfect way to end the year. Three hot young men having some naked fun together. Everyone got fucked and everyone blew a big load.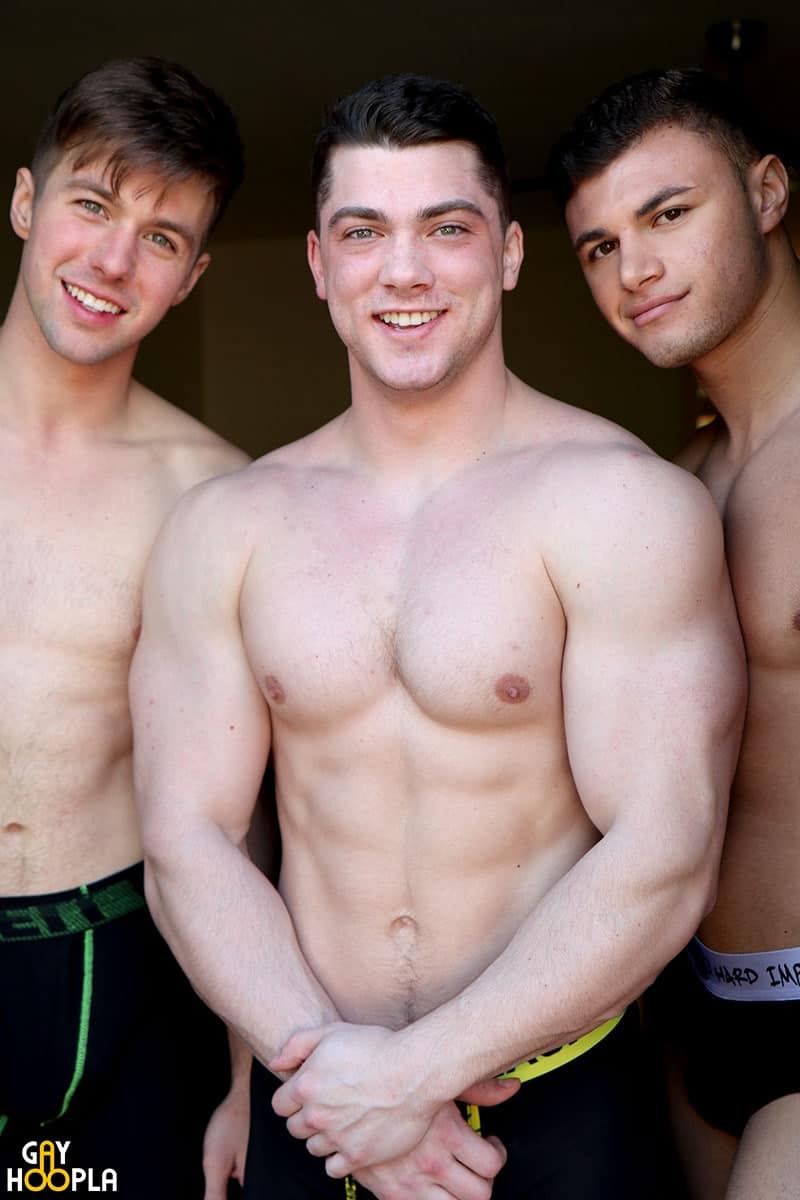 [This post contains video, click to play]