All American Heroes says: Naked uniform man Lance Corporal Morgie is wearing his service Charlies today. They are the usual olive drab, perfectly pressed uniforms worn by the men of the United States Marine Corps for their daily tasks.
He's got his ribbons in place on the left pec of his uniform. As he explains what each of them means, he muscles bulge slightly under the taut cotton.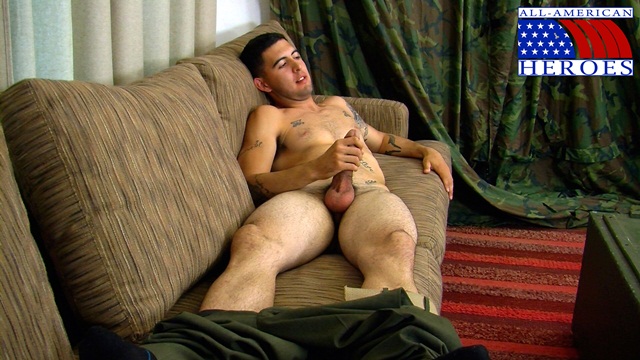 This sexy dark-haired stud has spent some time in the fields of Afghanistan and even has a tattoo honoring a fallen brother in arms. He begins to rub his cock gently through the thin cotton of his dress pants, the bulge growing rapidly.
He suddenly rips open his shirt and unbuckles his pants, revealing more tattoos and a slightly furry chest. His cock is hard and long enough to double the size of the hand he has wrapped around it. He strokes eagerly and slides down slightly on the sofa.
As he gets more comfortable, he slides his pants all the way down to his ankles, revealing the bouncing balls in between his hairy thighs. He takes off his shirt and reclines on the sofa, still working on the giant hard on in his hand.
His pubic hair has been trimmed, but is growing back into a dark thicket of tangled hair above his stiff member. He rolls onto his stomach and begins to rub his cock against the sofa, fucking an invisible partner beneath him.
With his arm cocked behind him, a patch of thick dark hair peaks out from his armpit just above the muscular bicep. As he fucks the sofa, his ass flexes and releases, begging to be penetrated. At one point, his middle fingers edges very close to the hairy crack. But no penetration this time! As he flips back over, his abs begin to flex and his chest heaves.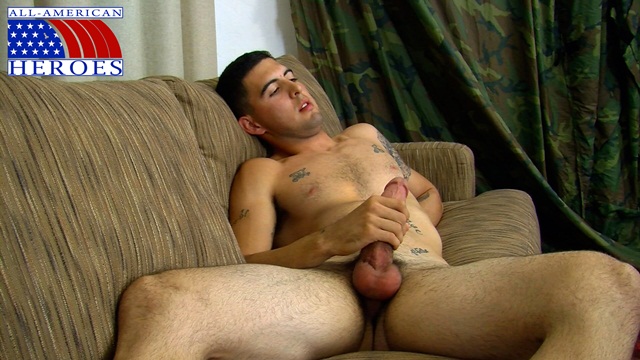 Gasping and groaning, he begins to cum. A thick glob of white semen forms at the tip of his dick and slowly drips down onto his hand and wrist. Slowly stroking still, his chest continues to heave and he enjoys the aftermath of his military orgasm.
*