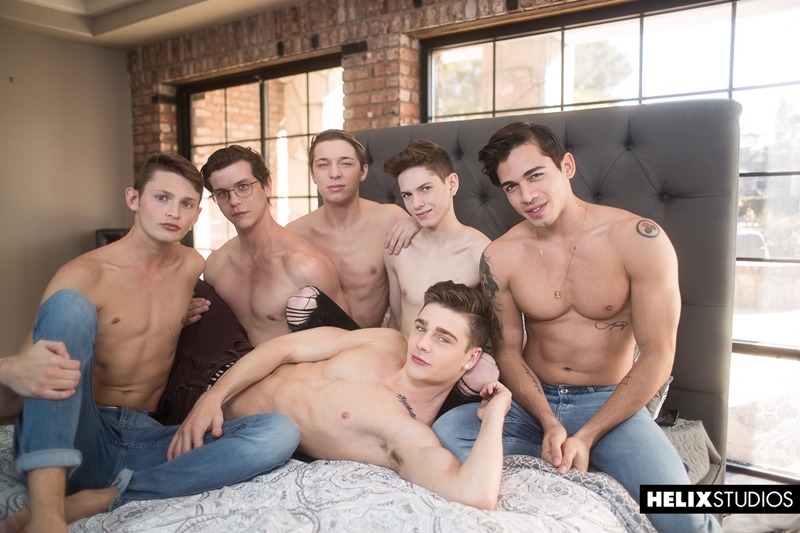 Gay twink orgy with Travis Stevens, Ashton Summers, Johnny Hands, Riley Finch, Jacob Hansen and Garrett Kinsley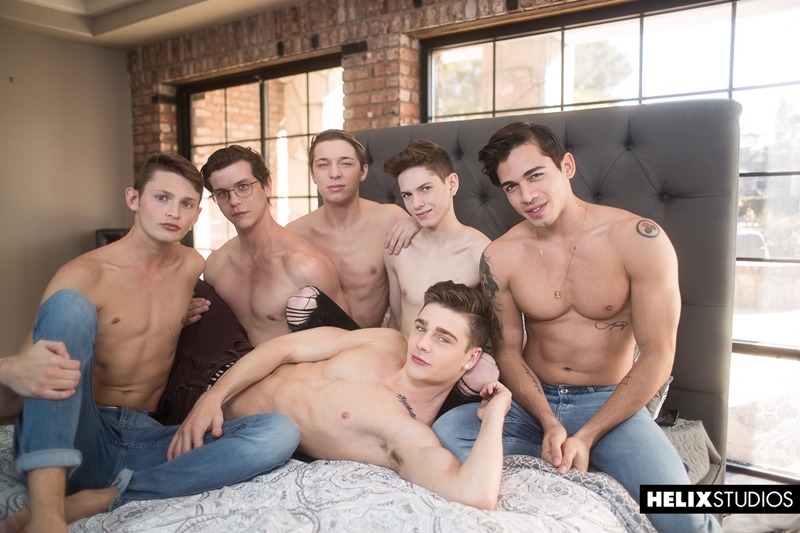 Helix says: Helix Studios' new series "Inside Helix: the Orgy!" is back, with another hot episode. As always the next episode in the series opens up with a big boner hardening behind the scenes tour. Travis Stevens explains that this is just like Big Brother only everyone is butt naked and gay."
In this chapter the guys talk about how they prepare for a scene; and, they REALLY go there, talking on topics from doing photos first to get everyone in the groove, to douching! They truly hold NOTHING back, even sharing inside jokes, kisses, after porn parties, and at home dinners, where Trevor and Ashton cook for the entire cock sucking crew.
The at-home footage shows the fuck stars fun personalities, dancing in their drawers, and cuddling with a few cocktails with cameos from fan favs, Max Carter, Alex Riley, and more. The party ends in a steamy hot tub! Then, the boys share their epic experiences at this year's porn awards, which naturally gets them all horned up!
Riley Finch is more than ready, saying, "I'm not leaving this orgy before I get DP'd." That dick thickening declaration takes us into an EPIC orgy, starring Riley Finch, Ashton Summers, Johnny Hands, Travis Stevens, Jacob Hansen, and Garrett Kinsley! The sexy six swap spit, strip, and get downright dirty, as they grab ass and cock like hungry porn star pigs.
The cock sucking comes in every configuration, and show boy Riley makes sure he's in the center of all the action. Our guys take full advantage, unloading the first of TWO fuck loads onto the thirsty lil' dude! Finch loves being drowned in jock juice, licking every dripping dick he can get that tongue towards.
Stevens sucks Finch's full sack, causing him to bust buckets onto that smooth boy body of his. Kinsley wipes the cum lover down with a pair of dirty drawers; then, Johnny flips the fuck boy over, and eats that cake, causing a chain reaction of incredible ass eating.
Once the smaller guys are slippery with spit, the hard-bodied hunks take over and open those asses with their oversized appendages. Hansen spots Kinsley getting crazed on Hands' huge hog and decides to join the party, for a delicious DP. Not to be outdone, Riley squats atop Summers' and Stevens' stiff dicks and eases that tight twink tail all the way down to the boy's balls!
After the ass stuffing overflow, fellow double-dipper Kinsley plants his well-worked self in the center for the next round of raunchy release. The cream heavy cock strokers absolutely cover him with nut, most of which he swallows like a true cum whore!
This is an epic orgy, which concludes in a playful pillow fight, showing just how "tight" this gorgeous group of guys are.